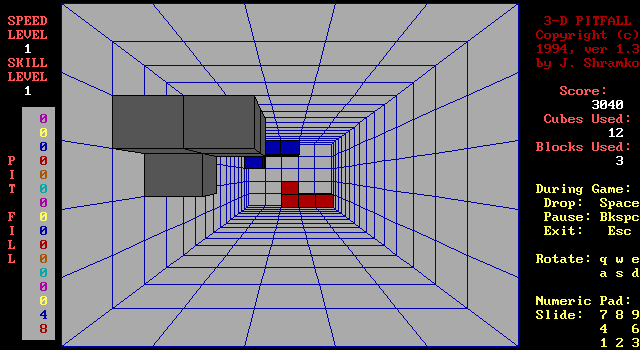 User Rating:
0
user ratings Based on
Page views: 184
Multiplayer:
Single player

DOWNLOAD THE GAME
3dpit.zip - 107k
Downloading ...
Need help installing and running the game? Check our DOSBox Guide to run DOS games on modern computers.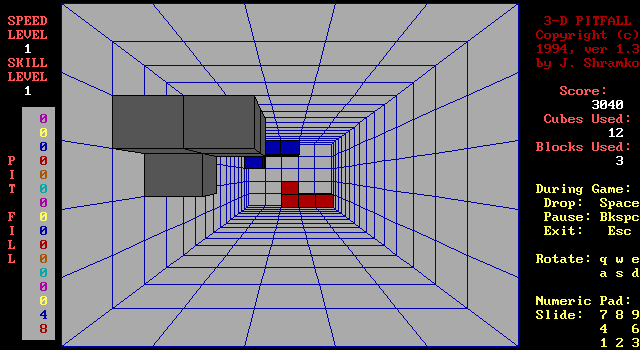 DOSGames.com Review:

Rating: 4
Looking suspiciously similar to the classic DOS Tetris-esque game Blockout! (and nothing like the Atari classic "Pitfall" game) 3D-Pitfall is essentially a 3D Tetris game. As blocks (both in traditional Tetris shape and more complicated configurations) appear and fall down the playing field, you must manipulate them to complete entire layers. It's more challenging than it looks, and I'm not sure it's more fun than the traditional Tetris game, but this version is well made a deserves a try if you're a fan of this type of game.
File_info.diz:
Related / similar games:
If you enjoy 3D-Pitfall, you might also enjoy playing these games:
Read comments and share your thoughts with others!
By using Facebook Comments you agree to their terms & privacy policy.
Play 3D-Pitfall in Browser
Games may take awhile to load. CTRL-F12 attempts to speed up game, CTRL-F11 attempts to slow it down.