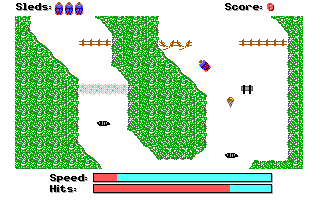 User Rating:
0
user ratings Based on
Page views: 3,133
Multiplayer:
Single player
DOSBox Cycles:
9000 (Approximate)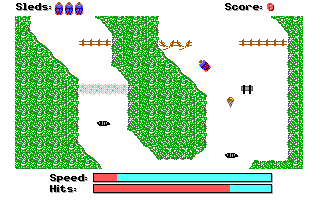 DOWNLOAD THE GAME FREE
DOSBOX_SLEDRIDE.ZIP - 179k - Run
SLEDRIDE.EXE
to play
Downloading ...
Found your game? Great! Glad you found it! Please consider saying thanks by making a small donation to support DOSGames.com. There are also other ways you can help!
Need help running the game? Check our DOSBox Guide to run DOS games on modern computers.

Original archive (Sledrider.zip, 183k) - The main download file above (DOSBOX_SLEDRIDE.ZIP) is pre-configured to work DOSBox. This file, Sledrider.zip, is the original and may require installation / setup.
DOSGames.com Review:

Rating: 4
Sledrider is a fun variant of the downhill skiing game, similar to
Ski King
and perhaps most notably
SkiFree
. The object is to ski down the mountain avoiding obstacles and picking up bonuses. The graphics including the interface are well done and the music and sound effects add to the experience. There are apparently 30 levels included so you'll have a tough time making it through all of them! (Thanks goes to website visitor Anbraxus for finding this game and making it available!)
FILE_ID.DIZ:
Play Sledrider in Browser
Game will not be saved after closing your browser. Download and install the game if you want to save.
CTRL-F12 attempts to speed up game, CTRL-F11 attempts to slow it down.
Related / similar games:
If you enjoy Sledrider, you might also enjoy playing these games:
Sledrider, #1620. Added to website: 2022-02-11. All copyrights, trademarks, etc, are property of their respective holders.