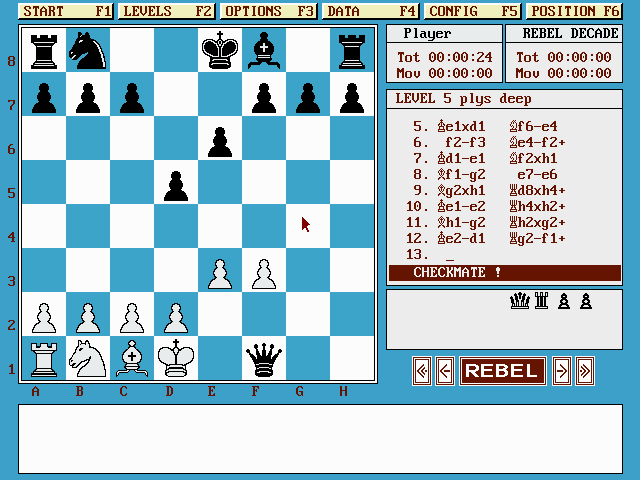 User Rating:
0
user ratings Based on
Page views: 491
Multiplayer:
Single player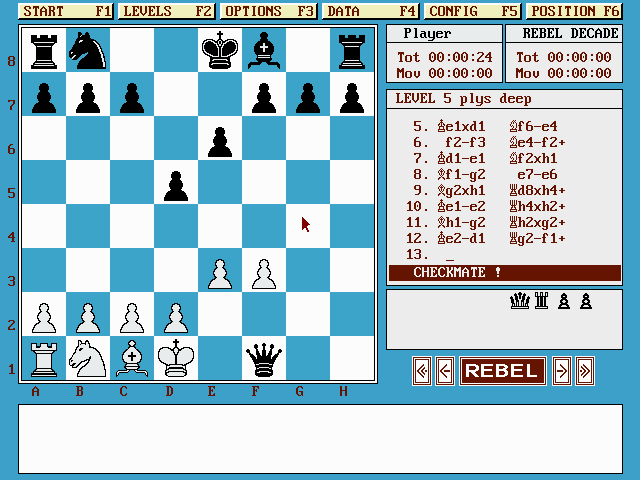 DOWNLOAD THE GAME
rebdec30.zip - 2,550k
Downloading ...
Found your game? Great! Glad you found it! Please consider saying thanks by making a small donation to support DOSGames.com. There are also other ways you can help!
Need help running the game? Check our DOSBox Guide to run DOS games on modern computers.
- Run
REBEL.EXE
to start
DOSGames.com Review: Rating: 3.5
Unlike some incarnations of chess on the PC, the oddly named "Rebel Decade Chess" program is a hardcore chess simulation. It has a usable interface, but some people who are not hardcore chess players will be a bit overwhelmed by all of the options. I'm only a casual player (that is to say, I suck) so I can't really judge how good the computer is ... it whupped me pretty soundly though. :) The developer released several other versions of this game on their website if you're interested in more modern versions.
Related / similar games:
If you enjoy Rebel Decade Chess, you might also enjoy playing these games:
Play Rebel Decade Chess in Browser
Games may take awhile to load. CTRL-F12 attempts to speed up game, CTRL-F11 attempts to slow it down.