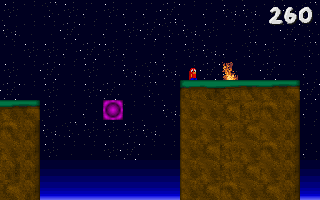 User Rating:
7
user ratings Based on
Page views: 14,025
Multiplayer:
Single player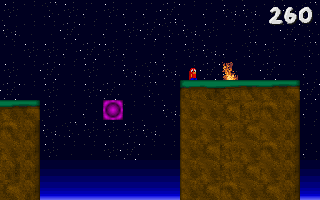 DOWNLOAD THE GAME FREE
DOSBOX_ARO.ZIP - 738k - Run
ARO.EXE
to play
Downloading ...
Found your game? Great! Glad you found it! Please consider saying thanks by making a small donation to support DOSGames.com. There are also other ways you can help!
Need help running the game? Check our DOSBox Guide to run DOS games on modern computers.

This game works in DOSBox but not currently in-browser. Please download and play on your device. How to use DOSBox
Original archive (aro.zip, 757k) - The main download file above (DOSBOX_ARO.ZIP) is pre-configured to work DOSBox. This file, aro.zip, is the original and may require installation / setup.
DOSGames.com Review: Rating: 2.5
Aro is a fairly basic sidescrolling/jumping game. You play as a red guy. The object is to jump your way to the end of the level. That's it, there's no story, no shooting, and only rarely is there any excitement. The graphics are pretty basic, but game controls fairly well though, and you have unlimited lives, so given the fact that the excitement level in the game is pretty subdued, it might be worth playing if you need to relax for awhile.
FILE_ID.DIZ:
Related / similar games:
If you enjoy Aro, you might also enjoy playing these games:
Aro, #408. Added to website: 2018-02-04. All copyrights, trademarks, etc, are property of their respective holders.