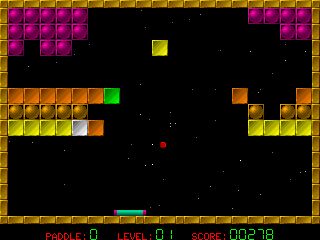 User Rating:
4
user ratings Based on
Page views: 9,679
Multiplayer:
Single player

DOWNLOAD THE GAME FREE
turoid.zip - 81k - Run
TUROID.EXE
to play
Downloading ...
Found your game? Great! Glad you found it! Please consider saying thanks by making a small donation to support DOSGames.com. There are also other ways you can help!
Need help running the game? Check our DOSBox Guide to run DOS games on modern computers.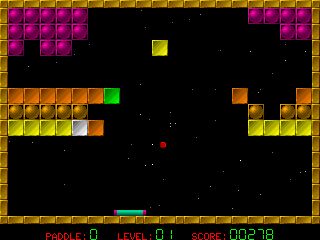 DOSGames.com Review:

Rating: 3
Truoid is a Breakout / Arkanoid clone with decent graphics and a good selection of levels, but somewhat punishing gameplay. Like the games that inspired it, the goal is to break all of the bricks to complete the levels. However, in this game most of the bricks fall down after you break them, and if your paddle is hit too often you'll lose a life. This is in addition to losing a life if you miss the ball. You do get some powerups from falling golden orbs (the only safe object to collect) however since they're random you never know if the powerup you'll get is better than what you already have. The uncertainty of the powerups and constantly avoiding falling blocks makes playing this game a bit stressful! (There is also an editor included, but saving levels is only enabled in the registered version.)
Play Turoid in Browser
Game will not be saved after closing your browser. Download and install the game if you want to save.
CTRL-F12 attempts to speed up game, CTRL-F11 attempts to slow it down.
Related / similar games:
If you enjoy Turoid, you might also enjoy playing these games:
Turoid, #855. Added to website: 2019-03-15. All copyrights, trademarks, etc, are property of their respective holders.