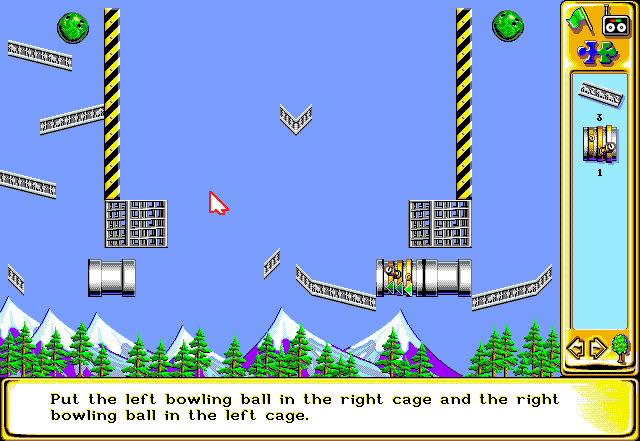 User Rating:
7
user ratings Based on
Page views: 20,022
Multiplayer:
Up to 2 players, Simultaneous shared keyboard

DOWNLOAD THE GAME FREE
DOSBOX_TIM2.ZIP - 1,215k - Run
TIM2.EXE
to play
Downloading ...
Found your game? Great! Glad you found it! Please consider saying thanks by making a small donation to support DOSGames.com. There are also other ways you can help!
Need help running the game? Check our DOSBox Guide to run DOS games on modern computers.

Buy the full version of Incredible Machine 2 at GOG.com
Original archive (tim2dm.zip, 1,248k) - The main download file above (DOSBOX_TIM2.ZIP) is pre-configured to work DOSBox. This file, tim2dm.zip, is the original and may require installation / setup.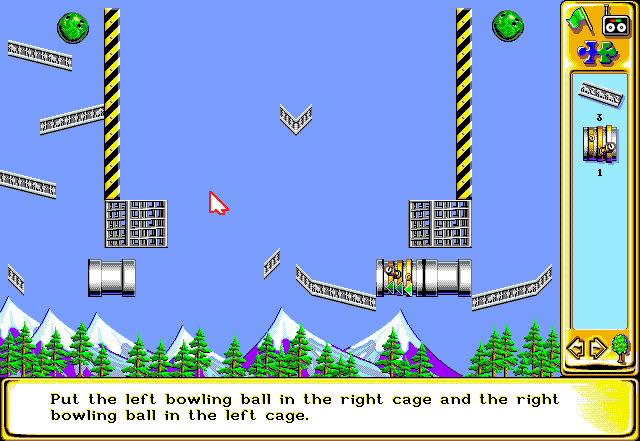 DOSGames.com Review:

Rating: 4.5
The Incredible Machine was an incredibly (!) fun game which encouraged players to creatively achieve different objectives on each level by building makeshift machines out of peculiar parts. The sequel presents more great puzzles for players to solve, with the same quirky graphical style and music that helped make the first game so memorable. There are plenty of odd parts to play with, such as kettles, computers, cats, blimps, and many more. This demo version gives you a small taste of what the full version has to offer, since there are only 5 playable levels available here.
FILE_ID.DIZ:
Play Incredible Machine 2 in Browser
Game will not be saved after closing your browser. Download and install the game if you want to save.
CTRL-F12 attempts to speed up game, CTRL-F11 attempts to slow it down.
Buy full version
Related / similar games:
If you enjoy Incredible Machine 2, you might also enjoy playing these games:
Incredible Machine 2, The, #740. Added to website: 2018-10-30. All copyrights, trademarks, etc, are property of their respective holders.