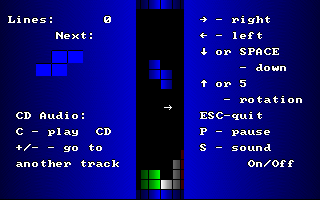 User Rating:
0
user ratings Based on
Page views: 4,789
Multiplayer:
Single player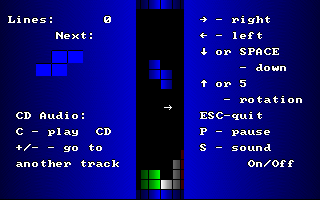 DOWNLOAD THE GAME FREE
tetround.zip - 6k - Run
TRFD.EXE
to play
Downloading ...
Found your game? Great! Glad you found it! Please consider saying thanks by making a small donation to support DOSGames.com. There are also other ways you can help!
Need help running the game? Check our DOSBox Guide to run DOS games on modern computers.

DOSGames.com Review: Rating: 2.5
TetRound is Tetris with a visual twist. You still place falling tetriminos to create lines which are then cleared from the well. But here the well is visualized as a cylindrical tube which you rotate in order to place your blocks, so you can only see part of it at a time. This makes placing the blocks much more difficult and, unless you have a fantastic memory, you'll need to be constantly rotating the well in order to determine where to put your falling pieces. It's not necessarily an improvement on the original Tetris at all, but it IS a unique gimmick on the classic Tetris formula. (An uncommon bonus feature is that you can play CD music discs in-game via a built-in audio CD player.)
Play TetRound in Browser
Game will not be saved after closing your browser. Download and install the game if you want to save.
CTRL-F12 attempts to speed up game, CTRL-F11 attempts to slow it down.
Related / similar games:
If you enjoy TetRound, you might also enjoy playing these games:
TetRound, #1380. Added to website: 2021-01-07. All copyrights, trademarks, etc, are property of their respective holders.