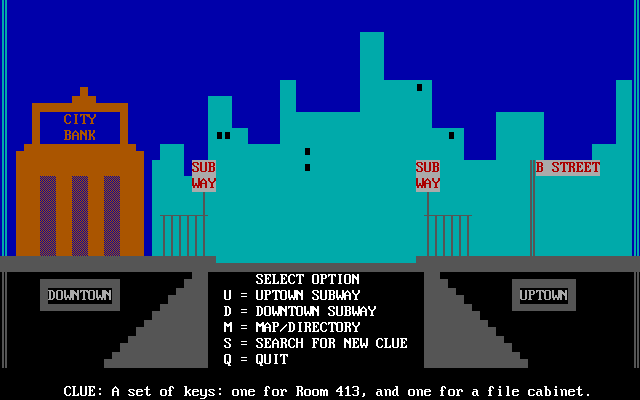 User Rating:
3
user ratings Based on
Page views: 8,562
Multiplayer:
Single player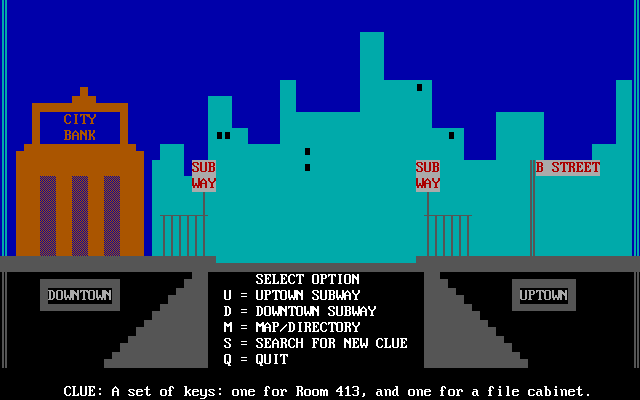 DOWNLOAD THE GAME FREE
subsl.zip - 54k - Run
SUBSL.EXE
to play
Downloading ...
Found your game? Great! Glad you found it! Please consider saying thanks by making a small donation to support DOSGames.com. There are also other ways you can help!
Need help running the game? Check our DOSBox Guide to run DOS games on modern computers.

DOSGames.com Review: Rating: 2.5
Subway Sleuth plays sort of like a very simple Where in the World is Carmen Sandiego game. You are a "subway sleuth", which apparently is basically a detective who needs to ride the subway to various locations in order to solve a crime. The crime here is that a valuable diamond has been stolen from a museum. You are given a clue, and must figure out which location (subway stop) to visit to get the next clue. Stops are alphabetic, from A Street (Downtown) to Z Street (Uptown). The game itself is pretty simple, the primary annoyance being having to wait while the subway travels from place to place. Okay if you're moving from M to N, not so much moving M to B. There are both Express (stops only at vowel stations) and Local trains so make sure you hop on the correct one. Could be a good game to teach kids local reasoning ... and patience!
Play Subway Sleuth in Browser
Game will not be saved after closing your browser. Download and install the game if you want to save.
CTRL-F12 attempts to speed up game, CTRL-F11 attempts to slow it down.
Related / similar games:
If you enjoy Subway Sleuth, you might also enjoy playing these games:
Subway Sleuth, #673. Added to website: 2018-08-20. All copyrights, trademarks, etc, are property of their respective holders.