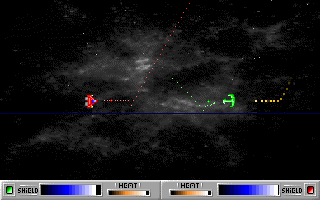 User Rating:
0
user ratings Based on
Page views: 9,276
Multiplayer:
Up to 2 players, Competitive shared keyboard
DOSBox Cycles:
12000 (Approximate)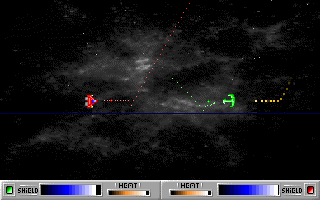 DOWNLOAD THE GAME FREE
starwrek.zip - 337k - Run
STARWREK.EXE
to play
Downloading ...
Found your game? Great! Glad you found it! Please consider saying thanks by making a small donation to support DOSGames.com. There are also other ways you can help!
Need help running the game? Check our DOSBox Guide to run DOS games on modern computers.

DOSGames.com Review: Rating: 2.5
Star Wrek is a one-on-one space dogfighting game which can be played against the computer or against a second keyboard-sharing player. The game is quite simple: Fly around and shoot your opponent until they die! But make sure that you don't overheat your craft by firing thrusters or shooting too often, because you'll be a sitting duck until your ship cools back down. There are some cool zooming effects (as your ships get closer / farther from each other) but there are not many options so after awhile you might get bored of it. Includes QuickBasic source code.
Play Star Wrek in Browser
Game will not be saved after closing your browser. Download and install the game if you want to save.
CTRL-F12 attempts to speed up game, CTRL-F11 attempts to slow it down.
Related / similar games:
If you enjoy Star Wrek, you might also enjoy playing these games:
Star Wrek, #1077. Added to website: 2020-04-01. All copyrights, trademarks, etc, are property of their respective holders.