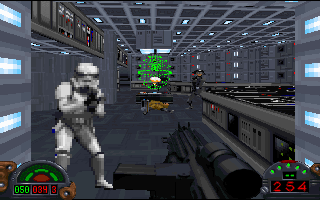 User Rating:
0
user ratings Based on
Page views: 193
Multiplayer:
Single player
For Kids:
No. Violence and/or sexual content

DOWNLOAD THE GAME
DOSBOX_DARKFORCES.ZIP - 3,134k
Downloading ...
Need help installing and running the game? Check our DOSBox Guide to run DOS games on modern computers.
Original archive (dforces1.zip, 3,254k) - The main download link above works in DOSBox after unzipping; the file dforces1.zip is the original archive.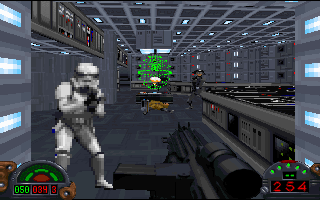 DOSGames.com Review:

Rating: 5
A demo version of one of a simply great 3D shooting game that I missed playing when it was originally released. Also known as "Star Wars: Dark Forces", this 3D shooting game does not use the DOOM engine, it uses LucasArts' own engine which includes a few features not seen in DOOM. (Though it still includes a very DOOM-like map.) Smooth although low-res graphics and responsive gameplay, along with the Star Wars theme, make this one a keeper. Definitely play it if you enjoy 3D shooting games!

Video Review
Video review of Dark Forces, courtesy of Ancient DOS Games
Related / similar games:
If you enjoy Dark Forces, you might also enjoy playing these games:
Read comments and share your thoughts with others!
By using Facebook Comments you agree to their terms & privacy policy.
Play Dark Forces in Browser
Games may take awhile to load. CTRL-F12 attempts to speed up game, CTRL-F11 attempts to slow it down.