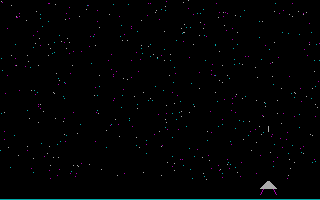 User Rating:
2
user ratings Based on
Page views: 7,990
Multiplayer:
Single player
DOSBox Cycles:
500 (Approximate)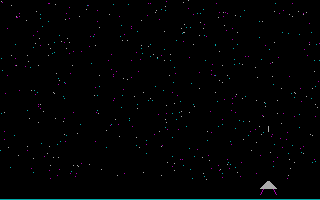 DOWNLOAD THE GAME FREE
SPACE.ZIP - 32k - Run
SPACE.EXE
to play
Downloading ...
Found your game? Great! Glad you found it! Please consider saying thanks by making a small donation to support DOSGames.com. There are also other ways you can help!
Need help running the game? Check our DOSBox Guide to run DOS games on modern computers.

DOSGames.com Review:

Rating: 2
Space is an unambitiously named shoot-em-up game made in 1985. (It's also called "Space Adventure" at the top of the instructions screen, but since there's already a game called
Space Adventure
on this website, I went with just "Space" as it says on the title screen.) It features bland CGA graphics and doesn't offer a lot in the gameplay department. You have a ship, and you must shoot the aliens. That's it! Kill 'em all and you move to the next level. There are a couple options you set before the game begins but the basic gameplay doesn't seem to change much. Unfortunately it seems nearly impossible to get past the second level, since the enemy ships shoot at you immediately when you enter their range of fire. I'm sure someone remembers this game from their youth though so I'm still including it on this website ...
Note:
When exiting the game it gives an error that a certain file is missing. I haven't been able to find a copy of this game that includes more than just the SPACE.EXE file. If you have a fuller copy with the additional file(s) please
let me know
. Thanks!
Play Space in Browser
Game will not be saved after closing your browser. Download and install the game if you want to save.
CTRL-F12 attempts to speed up game, CTRL-F11 attempts to slow it down.
Related / similar games:
If you enjoy Space, you might also enjoy playing these games:
Space, #1166. Added to website: 2020-07-18. All copyrights, trademarks, etc, are property of their respective holders.