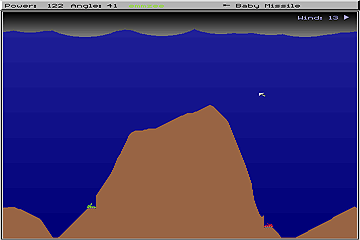 User Rating:
0
user ratings Based on
Page views: 888
Multiplayer:
Up to 10 players, Turn based shared keyboard competitive

DOWNLOAD THE GAME
scorched.zip - 691k
Downloading ...
Found your game? Great! Glad you found it! Please consider saying thanks by making a small donation to support DOSGames.com. There are also other ways you can help!
Need help running the game? Check our DOSBox Guide to run DOS games on modern computers.
- Run
SCORCH.EXE
to start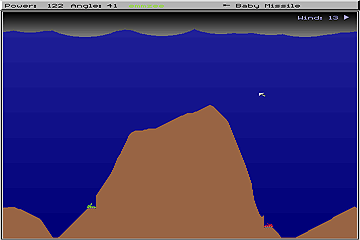 DOSGames.com Review:

Rating: 5
The best tank war game I've ever seen. It's called 'The Mother of all games' by the author and was chosen as PC World magazine as
the third best DOS game of all time
. In it, you are competing against up to 10 other tanks (controlled by other players or by the computer) and you battle by entering a velocity and turret angle before firing off various weapons, which you can purchase between rounds. Your weapons available to buy include Nukes, Napalm, Smoke Tracers, and Liquid Dirt, among many others. It looks and plays great, and it's great fun blowing up a tiny little tank with a huge nuke. (There are several levels of computer AI available, however you generally choose from "dumb as a doornail" to "nearly perfect" ...)

Video Review
Video review of Scorched Earth, courtesy of Ancient DOS Games
File_info.diz:
Related / similar games:
If you enjoy Scorched Earth, you might also enjoy playing these games:
Play Scorched Earth in Browser
Games may take awhile to load. CTRL-F12 attempts to speed up game, CTRL-F11 attempts to slow it down.