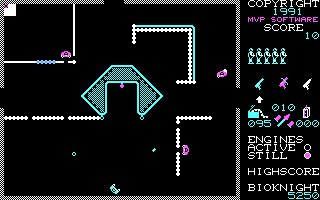 User Rating:
2
user ratings Based on
Page views: 2,481
Multiplayer:
Single player
DOSBox Cycles:
375 (Approximate)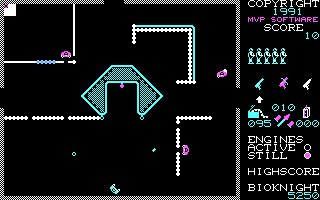 DOWNLOAD THE GAME FREE
robomaze1.zip - 47k - Run
ROBOMAZE.EXE
to play
Downloading ...
Found your game? Great! Glad you found it! Please consider saying thanks by making a small donation to support DOSGames.com. There are also other ways you can help!
Need help running the game? Check our DOSBox Guide to run DOS games on modern computers.

DOSGames.com Review:

Rating: 2
Robomaze is the first in a
series of Robomaze games
created by Keith Laverty of MVP Software fame. Apparently this game was only released as a part of a collection of Robomaze games, and wasn't originally released on its own. It's a more simple shooting game when compared to the later Robomaze games, and features CGA graphics. You'll need to carefully maneuver your character into a good shooting position, then blast your foes. The tank-like controls are a bit awkward but not too bad once you get used to them.
Instructions:
I Move forward
J Turn left
K Stop
L Turn right
Enter Change weapon
Space Fire
Play Robomaze in Browser
Game will not be saved after closing your browser. Download and install the game if you want to save.
CTRL-F12 attempts to speed up game, CTRL-F11 attempts to slow it down. See Instructions section above for help playing the game!
Related / similar games:
If you enjoy Robomaze, you might also enjoy playing these games:
Robomaze, #1690. Added to website: 2022-07-09. All copyrights, trademarks, etc, are property of their respective holders.