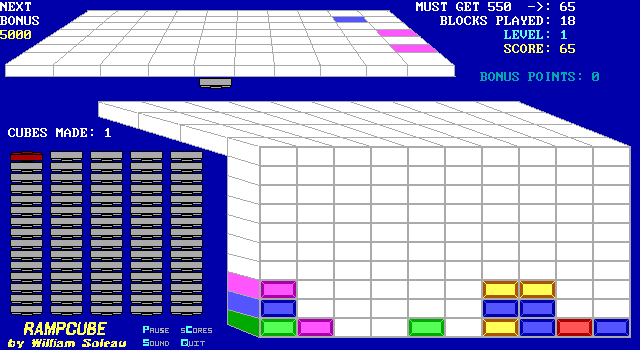 User Rating:
2
user ratings Based on
Page views: 5,813
Multiplayer:
Single player
DOSBox Cycles:
3000 (Approximate)

DOWNLOAD THE GAME FREE
rampcube.zip - 77k - Run
RAMPCUBE.EXE
to play
Downloading ...
Found your game? Great! Glad you found it! Please consider saying thanks by making a small donation to support DOSGames.com. There are also other ways you can help!
Need help running the game? Check our DOSBox Guide to run DOS games on modern computers.

This game works in DOSBox but not currently in-browser. Please download and play on your device. How to use DOSBox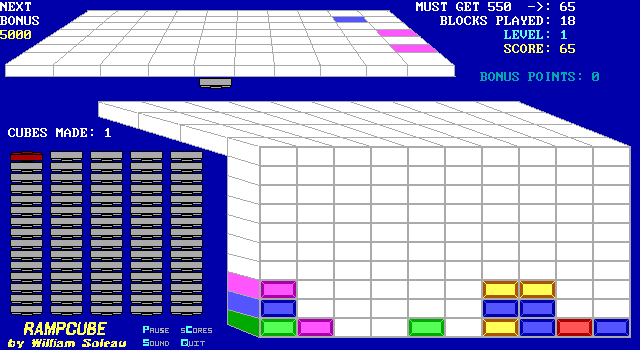 DOSGames.com Review:

Rating: 2.5
Rampcube is a Klax-like game (released around the time that Klax became popular) which involves dropping differed color pieces down a grid. The main differences between this and Klax are that here you are trying to make cubes not lines, and the perspective is warped making it difficult to pay attention to where you're dropping the cubes. Seriously the perspective makes this game difficult to get used to, especially since you only have a limited amount of time to drop your piece before it's automatically dropped for you. Another game from the seemingly limitless supply of
Soleau Software
games!
Related / similar games:
If you enjoy Rampcube, you might also enjoy playing these games:
Rampcube, #1145. Added to website: 2020-07-02. All copyrights, trademarks, etc, are property of their respective holders.