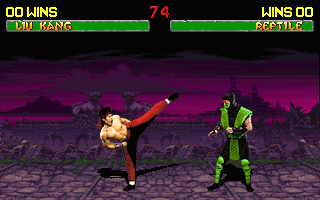 User Rating:
9
user ratings Based on
Page views: 33,727
Multiplayer:
Up to 2 players, Simultaneous competitive deathmatch
For Kids:
No. Violence and/or sexual content

DOWNLOAD THE GAME FREE
DOSBOX_MK2.ZIP - 5,198k - Run
MKII.EXE
to play
Downloading ...
Found your game? Great! Glad you found it! Please consider saying thanks by making a small donation to support DOSGames.com. There are also other ways you can help!
Need help running the game? Check our DOSBox Guide to run DOS games on modern computers.

Buy the full version of Mortal Kombat 2 at GOG.com
Original archive (mk2demo.zip, 5,254k) - The main download file above (DOSBOX_MK2.ZIP) is pre-configured to work DOSBox. This file, mk2demo.zip, is the original and may require installation / setup.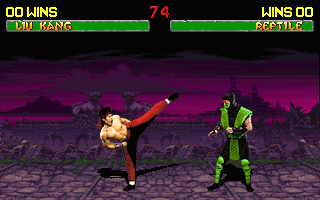 DOSGames.com Review:

Rating: 5
In terms of ports, DOS often received pretty terrible ones in the early days. (See for example Mega Man or Double Dragon for DOS ... or better yet, avoid them entirely.) However Mortal Kombat 2 is a surprisingly faithful rendition of the arcade classic game. Mortal Kombat is of course the supremely violent one-on-one fighting game series, famous for its Fatalities, violence, and unique combat system. This demo version only allows fights between Liu Kang and Reptile, however the full version features all 15 fighters. The graphics and sounds are relatively faithful to the arcade, and the game has the same feel, although of course using the keyboard to play will be nowhere near as satisfying as an arcade stick and buttons! (Note the keyboard controls below in the instructions.)
Instructions:
F1 Player 1 start
F1 Player 2 start
F10 Options (change sound settings & keys)
Alt-Q Exit game
Play Mortal Kombat 2 in Browser
Game will not be saved after closing your browser. Download and install the game if you want to save.
CTRL-F12 attempts to speed up game, CTRL-F11 attempts to slow it down. See Instructions section above for help playing the game!
Buy full version
Related / similar games:
If you enjoy Mortal Kombat 2, you might also enjoy playing these games:
Mortal Kombat 2, #829. Added to website: 2019-01-19. All copyrights, trademarks, etc, are property of their respective holders.