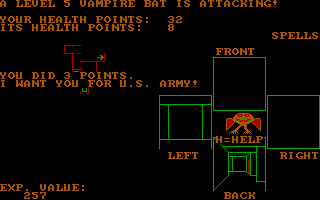 User Rating:
1
user rating Based on
Page views: 13,989
Multiplayer:
Single player

DOWNLOAD THE GAME FREE
rev32.zip - 131k - Run
BEGIN.EXE
to play
Downloading ...
Found your game? Great! Glad you found it! Please consider saying thanks by making a small donation to support DOSGames.com. There are also other ways you can help!
Need help running the game? Check our DOSBox Guide to run DOS games on modern computers.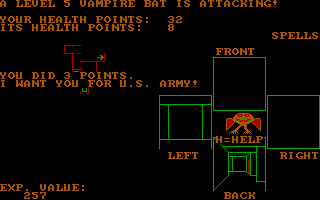 DOSGames.com Review:

Rating: 2.5
Moraff's Revenge is actually the first in a series of Moraffware RPGs, the latter of which include
Moraff's World
and finally
Moraff's Dungeons of the Unforgiven
. The first game in the series is the simplest in some ways, with CGA graphics and no real plot other than explore the dungeons for treasure and experience points. You can choose to be a fighter or a wizard, roll your stats, and then enter the town. It can be confusing to get around, and not obvious what to do. The in-game help is quite verbose so make use of it to figure out what to do and what keys to push (there are a lot!). There are a maximum of 17 dungeon levels in the shareware version.
Play Moraff's Revenge in Browser
Game will not be saved after closing your browser. Download and install the game if you want to save.
CTRL-F12 attempts to speed up game, CTRL-F11 attempts to slow it down.
Related / similar games:
If you enjoy Moraff's Revenge, you might also enjoy playing these games:
Moraff's Revenge, #907. Added to website: 2019-06-11. All copyrights, trademarks, etc, are property of their respective holders.