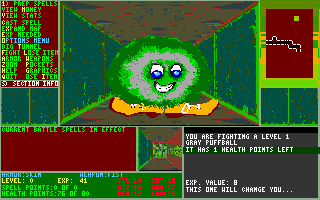 User Rating:
1
user rating Based on
Page views: 93
Multiplayer:
Single player

DOWNLOAD THE GAME
unforgiv.zip - 540k
Downloading ...
Need help installing and running the game? Check our DOSBox Guide to run DOS games on modern computers.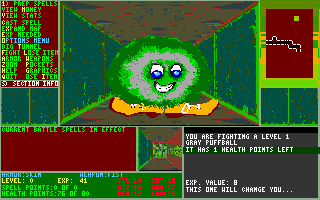 DOSGames.com Review:

Rating: 2.5
If you're looking for a classic dungeon-crawl game along the lines of all of the old SSI RPG games (Eye of the Beholder, Dark Sun, AD&D, etc.) then you may enjoy this game. It has average graphics, and not a lot of story, although more than some other similar Moraffware games. But there is lots of classic hack'n'slash action here for computer RPG purists. (Note: The graphics looked a little weird on my screen no matter which option I picked at the beginning. Try different options if the game doesn't look quite right for you.)
File_info.diz:
Related / similar games:
If you enjoy Moraff's Dungeons of the Unforgiven, you might also enjoy playing these games:
Read comments and share your thoughts with others!
By using Facebook Comments you agree to their terms & privacy policy.
Play Moraff's Dungeons of the Unforgiven in Browser
Games may take awhile to load. CTRL-F12 attempts to speed up game, CTRL-F11 attempts to slow it down.