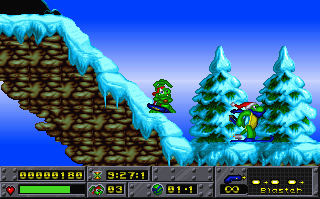 User Rating:
0
user ratings Based on
Page views: 109
Multiplayer:
Single player

DOWNLOAD THE GAME
DOSBOX_JAZZXMAS1994.ZIP - 1,373k
Downloading ...
Need help installing and running the game? Check our DOSBox Guide to run DOS games on modern computers.
Original archive (jazzxmas.zip, 1,405k) - The main download link above works in DOSBox after unzipping; the file jazzxmas.zip is the original archive.
$ Buy full version @ GOG.com - Get the full version of Jazz Jackrabbit: Holiday Hare 1994 cheap at GOG with immediate download, no DRM, and often bonus extra content!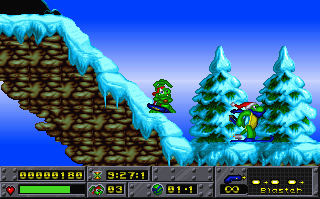 DOSGames.com Review:

Rating: 4
This special freeware version of the classic Sonic-inspired jumping & shooting game from Epic Megagames was released at Christmas time in 1994 to promote the full version of Epic's Jazz Jackrabbit series. The Jazz games of course combine the fast speed of the Sonic games along with shooting action. This "Holiday Hare" version includes the great graphics, smooth animation, wonderful music and excellent controls of the other Jazz games, along with a winter/holiday theme and some bonus "3D" gem collecting stages.
File_info.diz:
Related / similar games:
If you enjoy Jazz Jackrabbit: Holiday Hare 1994, you might also enjoy playing these games:
Read comments and share your thoughts with others!
By using Facebook Comments you agree to their terms & privacy policy.
Play Jazz Jackrabbit: Holiday Hare 1994 in Browser
Games may take awhile to load. CTRL-F12 attempts to speed up game, CTRL-F11 attempts to slow it down.