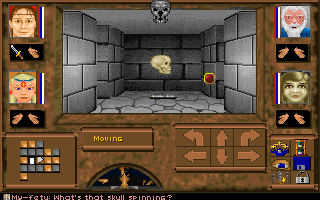 User Rating:
1
user rating Based on
Page views: 14,318
Multiplayer:
Single player

DOWNLOAD THE GAME FREE
1tome.zip - 3,079k - Run
TOME.EXE
to play
Downloading ...
Found your game? Great! Glad you found it! Please consider saying thanks by making a small donation to support DOSGames.com. There are also other ways you can help!
Need help running the game? Check our DOSBox Guide to run DOS games on modern computers.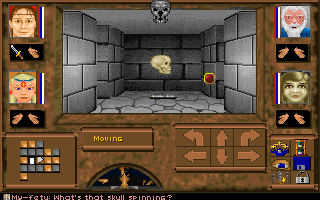 DOSGames.com Review:

Rating: 4
Infernal Tome (episode 1, "Shardmoure Keep") is a classic-style 1st person RPG dungeon crawling game. Similar to classic computer RPGs like Dungeon Hack or Eye of the Beholder, the emphasis here is on finding your way out of the 3D-like mazes. Nice graphics and sound effects complement a well-done story introduction, making this game seem almost commercial-quality in its presentation. (HINT: Near the beginning of the game there is an object on the ground near the feet of one of the suits of armor that you have to pick up; it's grey and hard to see!)
FILE_ID.DIZ:
Play Infernal Tome in Browser
Game will not be saved after closing your browser. Download and install the game if you want to save.
CTRL-F12 attempts to speed up game, CTRL-F11 attempts to slow it down.
Related / similar games:
If you enjoy Infernal Tome, you might also enjoy playing these games:
Infernal Tome, #377. Added to website: 2018-01-30. All copyrights, trademarks, etc, are property of their respective holders.