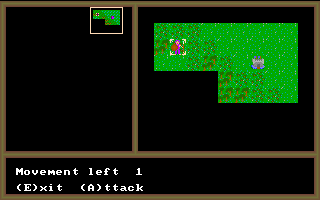 User Rating:
1
user rating Based on
Page views: 1,795
Multiplayer:
Up to 2 players, Turn-based shared keyboard competitive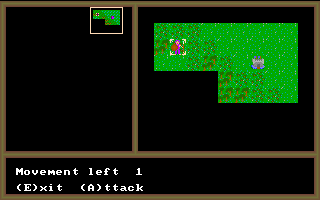 DOWNLOAD THE GAME FREE
hostil11.zip - 100k - Run
HOSTILE.EXE
to play
Downloading ...
Found your game? Great! Glad you found it! Please consider saying thanks by making a small donation to support DOSGames.com. There are also other ways you can help!
Need help running the game? Check our DOSBox Guide to run DOS games on modern computers.

DOSGames.com Review: Rating: 3.5
Hostile Takeover is a turn-based strategy game that can be played against the computer or another player. Each game the map is generated randomly, and you must produce troops of various types (soldier, wolf, pegasus ...) and explore the map to reveal its structure (initially it's hidden). There is in-game help, which is necessary since there are a lot of hotkeys used to perform different functions. However the game doesn't appear to be overly complex, so if you're looking for a fantasy-themed turn-based strategy game that isn't over-ambitious (and/or can be played with a second player) give it a try. Note that this game requires a numeric keypad to be played properly!
Instructions:
Full instructions are available in the docs but use the arrow keys to move the viewport around the map, and use the numeric keypad to move your cursor to select things.
FILE_ID.DIZ:
Play Hostile Takeover in Browser
Game will not be saved after closing your browser. Download and install the game if you want to save.
CTRL-F12 attempts to speed up game, CTRL-F11 attempts to slow it down. See Instructions section above for help playing the game!
Related / similar games:
If you enjoy Hostile Takeover, you might also enjoy playing these games:
Hostile Takeover, #1732. Added to website: 2023-01-01. All copyrights, trademarks, etc, are property of their respective holders.