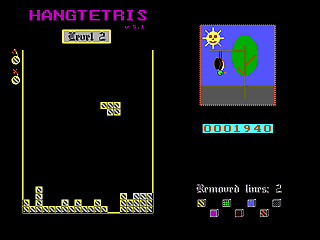 User Rating:
0
user ratings Based on
Page views: 68
Multiplayer:
Single player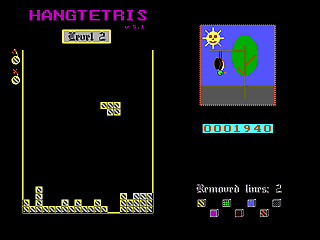 DOWNLOAD THE GAME
ht_unreg.zip - 87k
Downloading ...
Need help installing and running the game? Check our DOSBox Guide to run DOS games on modern computers.
DOSGames.com Review: Rating: 2.5
Hangtetris is a Tetris variant that doesn't stray too far from the familiar Tetris mold. The main innovations here are more different block shapes that begin to drop at higher levels, and a much wider and taller playing field than usual. Other than that, not much new here, the graphics are passable but definitely not spectacular. There is also no "Next block" display which makes the game slightly more difficult.
File_info.diz:
Related / similar games:
If you enjoy Hangtetris, you might also enjoy playing these games:
Read comments and share your thoughts with others!
By using Facebook Comments you agree to their terms & privacy policy.
Play Hangtetris in Browser
Games may take awhile to load. CTRL-F12 attempts to speed up game, CTRL-F11 attempts to slow it down.