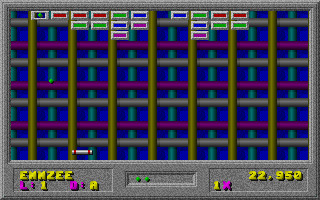 User Rating:
1
user rating Based on
Page views: 7,527
Multiplayer:
Up to 6 players, Hotseat

DOWNLOAD THE GAME FREE
gems315.zip - 182k - Run
GEMS3.EXE
to play
Downloading ...
Found your game? Great! Glad you found it! Please consider saying thanks by making a small donation to support DOSGames.com. There are also other ways you can help!
Need help running the game? Check our DOSBox Guide to run DOS games on modern computers.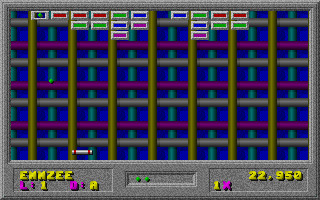 DOSGames.com Review:

Rating: 3
A mostly average Arkanoid clone. It has fairly good graphics, but the general lack of powerup items (they do appear, but much too infrequently) make the game less exciting than it could have been. Other than that, it's a very playable remake of the classic Breakout-style game. It allows six players, but not simultaneously, so each person has to wait to take their turn. Bummer. (Note that you can increase the speed in the Options, the default is a bit slow.)
FILE_ID.DIZ:
Play G-Stones 3 in Browser
Game will not be saved after closing your browser. Download and install the game if you want to save.
CTRL-F12 attempts to speed up game, CTRL-F11 attempts to slow it down.
Related / similar games:
If you enjoy G-Stones 3, you might also enjoy playing these games:
G-Stones 3, #188. Added to website: 2017-12-10. All copyrights, trademarks, etc, are property of their respective holders.