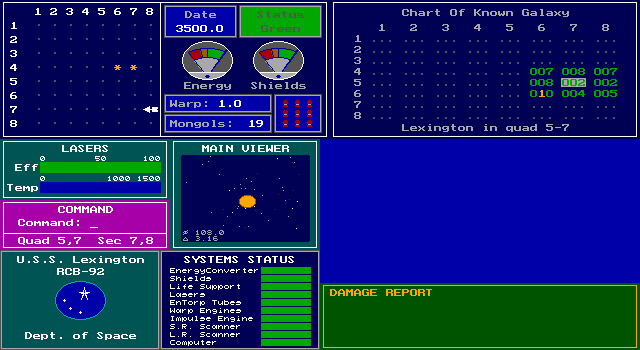 User Rating:
0
user ratings Based on
Page views: 830
Multiplayer:
Single player

DOWNLOAD THE GAME
egatrk31.zip - 129k
Downloading ...
Found your game? Great! Glad you found it! Please consider saying thanks by making a small donation to support DOSGames.com. There are also other ways you can help!
Need help running the game? Check our DOSBox Guide to run DOS games on modern computers.
- Run
EGATREK.EXE
to start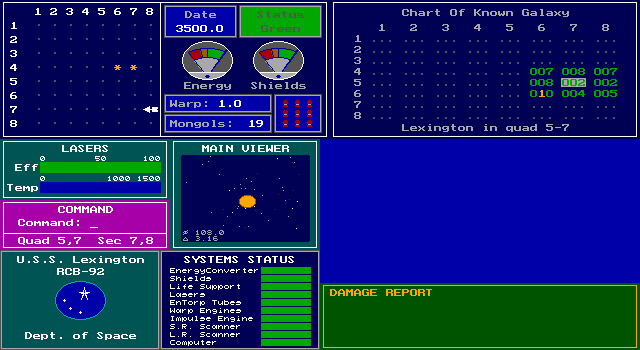 DOSGames.com Review:

Rating: 4
EGA Trek is based heavily on very early computer space simulation games. (ie. the first computer game ever, Space War!, aka Computer Space). Since this is a non-licensed game, it never refers to it as "Star Trek", but you know what they were going for. It includes color graphics that although sparse do the job well. The objective is to eliminate other ships and "save the galaxy". This is a simulation/strategy game with not a lot of action, so it won't be for everyone, but it definitely is a classic PC game.
File_info.diz:
Related / similar games:
If you enjoy EGA Trek, you might also enjoy playing these games:
Play EGA Trek in Browser
Games may take awhile to load. CTRL-F12 attempts to speed up game, CTRL-F11 attempts to slow it down.