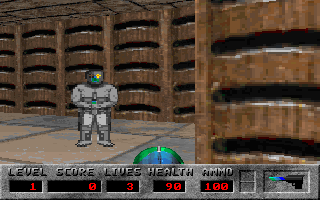 User Rating:
7
user ratings Based on
Page views: 20,367
Multiplayer:
Single player
For Kids:
No. Violence and/or sexual content

DOWNLOAD THE GAME FREE
DOSBOX_DEPTH.ZIP - 1,425k - Run
DEPTH.BAT
to play
Downloading ...
Found your game? Great! Glad you found it! Please consider saying thanks by making a small donation to support DOSGames.com. There are also other ways you can help!
Need help running the game? Check our DOSBox Guide to run DOS games on modern computers.

Original archive (depth.zip, 1,296k) - The main download file above (DOSBOX_DEPTH.ZIP) is pre-configured to work DOSBox. This file, depth.zip, is the original and may require installation / setup.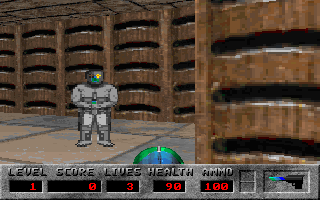 DOSGames.com Review:

Rating: 2.5
Depth Dwellers is a relatively unknown early 3D shooting game that was probably the victim of bad timing: It was released only a few months after DOOM. The game engine developed by TriSoft is somewhere inbetween Wolfenstein 3D and DOOM in terms of features and abilities. The game itself is fairly generic, with not a lot of unique features, and only passable graphics for a 3D game. Overall a decent effort from an unknown development team, but really there's not much reason to play this instead of DOOM. It's not quite as "AWSOME" [sic] as the registration screen suggests.

Video Review
Video review of Depth Dwellers, courtesy of Ancient DOS Games
FILE_ID.DIZ:
Play Depth Dwellers in Browser
Game will not be saved after closing your browser. Download and install the game if you want to save.
CTRL-F12 attempts to speed up game, CTRL-F11 attempts to slow it down.
Related / similar games:
If you enjoy Depth Dwellers, you might also enjoy playing these games:
Depth Dwellers - The Quest, #10. Added to website: 2017-10-21. All copyrights, trademarks, etc, are property of their respective holders.