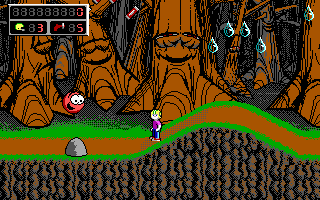 User Rating:
0
user ratings Based on
Page views: 173
Multiplayer:
Single player

DOWNLOAD THE GAME
DOSBOX_KEEN4.ZIP - 623k
Downloading ...
Need help installing and running the game? Check our DOSBox Guide to run DOS games on modern computers.
Original archive (4keen.zip, 712k) - The main download link above works in DOSBox after unzipping; the file 4keen.zip is the original archive.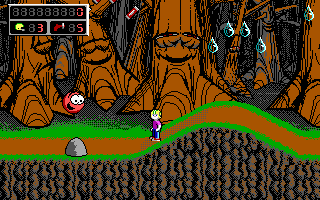 DOSGames.com Review:

Rating: 4.5
Commander Keen Secret of the Oracle is the well-received fourth episode in the Commander Keen series. (The series this game is part of is called "Goodbye Galaxy!") Like the original game, it was developed by iD Software and published by Apogee. In this game, Billy "Commander Keen" Blaze is again called into action and must adventure into an overhead map and then into platforming stages. The main complaint against this game (as with the original) would probably the one-hit-death mechanics, which can make each level feel more stressful as you near the exit! However this game improves on the graphics, music, and sound effects of the earlier games while including many of the same elements that made the original successful (such as the pogo stick) and provides a fun experience. (It even includes an epic game of Pong, aka "Paddle War", on the main menu ...)
File_info.diz:
Related / similar games:
If you enjoy Commander Keen 4, you might also enjoy playing these games:
Read comments and share your thoughts with others!
By using Facebook Comments you agree to their terms & privacy policy.
Play Commander Keen 4 in Browser
Games may take awhile to load. CTRL-F12 attempts to speed up game, CTRL-F11 attempts to slow it down.