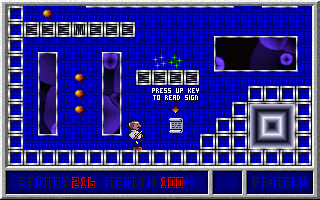 User Rating:
6
user ratings Based on
Page views: 11,653
Multiplayer:
Single player

DOWNLOAD THE GAME FREE
clydsrev.zip - 1,183k - Run
REVENGE.EXE
to play
Downloading ...
Found your game? Great! Glad you found it! Please consider saying thanks by making a small donation to support DOSGames.com. There are also other ways you can help!
Need help running the game? Check our DOSBox Guide to run DOS games on modern computers.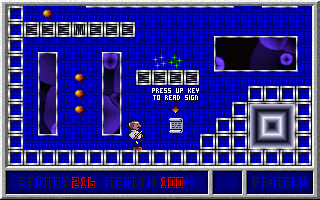 DOSGames.com Review:

Rating: 4
A relaxing platformer where the emphasis is on collecting items and making tricky jumps, as well as solving simple puzzles. I say "relaxing" because there are no enemies to worry about, and the MIDI music has a soothing quality about it, although in the game energy works as the time limit and you must keep collecting more as you try to find the exit. It's the sequel to Clyde's Adventure (this time with VGA graphics) and is similar in style to Apogee's Hocus Pocus (also developed by Moonlite), just a bit more laid back.
FILE_ID.DIZ:
Play Clyde's Revenge in Browser
Game will not be saved after closing your browser. Download and install the game if you want to save.
CTRL-F12 attempts to speed up game, CTRL-F11 attempts to slow it down.
Related / similar games:
If you enjoy Clyde's Revenge, you might also enjoy playing these games:
Clyde's Revenge, #418. Added to website: 2018-02-10. All copyrights, trademarks, etc, are property of their respective holders.