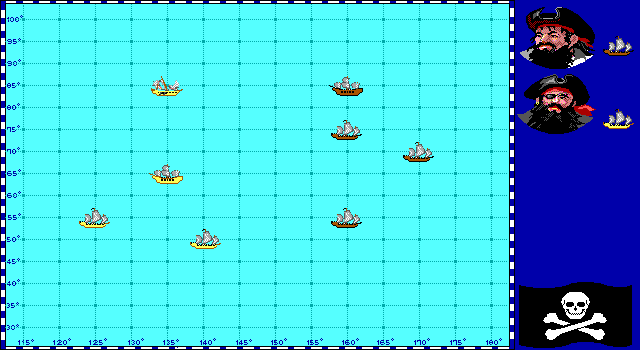 User Rating:
1
user rating Based on
Page views: 4,998
Multiplayer:
Up to 4 players, Turn-based shared keyboard/mouse competitive

DOWNLOAD THE GAME FREE
cpirates.zip - 210k - Run
PIRATES.EXE
to play
Downloading ...
Found your game? Great! Glad you found it! Please consider saying thanks by making a small donation to support DOSGames.com. There are also other ways you can help!
Need help running the game? Check our DOSBox Guide to run DOS games on modern computers.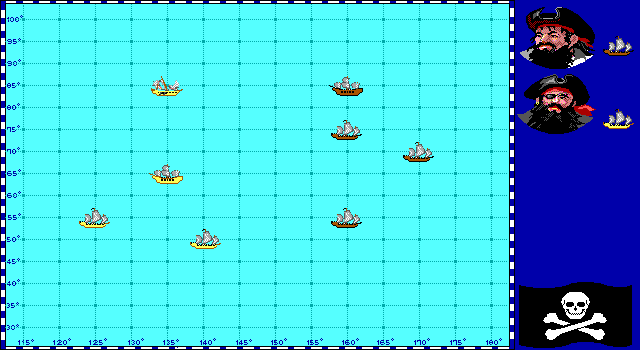 DOSGames.com Review:

Rating: 3
Captured by Pirates! is a strategy game where players (2-4, human or CPU controlled) compete to ... win the game? Get money? Destroy all your opponents? It never actually seems to tell you what the object is, but you'll need to strategically place your ships and buy weaponry, as well as look for buried treasure and hope that randomized events don't affect your fleet. Make sure to read the in-game help (also in PIRATES.TXT) for information on how everything works. It seems a bit random to me and although there is a lot of documentation it's not clear how this all fits together, but it certainly has high production values for a freeware game from the early 90's!
Play Captured by Pirates! in Browser
Game will not be saved after closing your browser. Download and install the game if you want to save.
CTRL-F12 attempts to speed up game, CTRL-F11 attempts to slow it down.
Related / similar games:
If you enjoy Captured by Pirates!, you might also enjoy playing these games:
Captured by Pirates!, #1483. Added to website: 2021-05-05. All copyrights, trademarks, etc, are property of their respective holders.