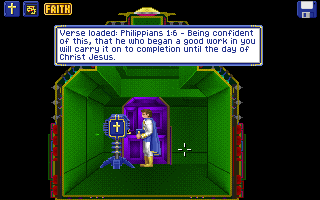 User Rating:
5
user ratings Based on
Page views: 8,858
Multiplayer:
Single player

DOWNLOAD THE GAME FREE
DOSBOX_CAPTAINBIBLE.ZIP - 1,025k - Run
CBSE.EXE
to play
Downloading ...
Found your game? Great! Glad you found it! Please consider saying thanks by making a small donation to support DOSGames.com. There are also other ways you can help!
Need help running the game? Check our DOSBox Guide to run DOS games on modern computers.

Original archive (capbible.zip, 1,026k) - The main download file above (DOSBOX_CAPTAINBIBLE.ZIP) is pre-configured to work DOSBox. This file, capbible.zip, is the original and may require installation / setup.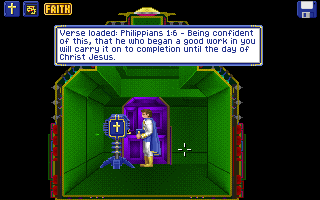 DOSGames.com Review:

Rating: 3
This "Special Edition" (aka demo, or limited version of the full game) of Captain Bible in Dome of Darkness presents better production quality than most Christian video games, and it actually has gameplay as well! You of course play Captain Bible, and run around a maze collecting verses to dispel the lies that you encounter. You'll need to avoid the hallway lasers, which seem to be there mainly to slow you down and add some sort of challenge. It plays well enough although the game itself is quite simple. Still, better than the average Bible-based game and you may actually learn something.
FILE_ID.DIZ:
Play Captain Bible in Dome of Darkness in Browser
Game will not be saved after closing your browser. Download and install the game if you want to save.
CTRL-F12 attempts to speed up game, CTRL-F11 attempts to slow it down.
Related / similar games:
If you enjoy Captain Bible in Dome of Darkness, you might also enjoy playing these games:
Captain Bible in Dome of Darkness, #1103. Added to website: 2020-05-25. All copyrights, trademarks, etc, are property of their respective holders.