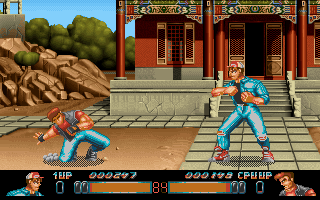 User Rating:
39
user ratings Based on
Page views: 46,907
Multiplayer:
Up to 2 players, Simultaneous shared keyboard competitive
For Kids:
No. Violence and/or sexual content

DOWNLOAD THE GAME FREE
bodyblws.zip - 426k - Run
BB2.EXE
to play
Downloading ...
Found your game? Great! Glad you found it! Please consider saying thanks by making a small donation to support DOSGames.com. There are also other ways you can help!
Need help running the game? Check our DOSBox Guide to run DOS games on modern computers.

Body Blows Alternate Demo (bbdemo.zip, 416k) - This is an alternative demo where you fight as a different character in another location.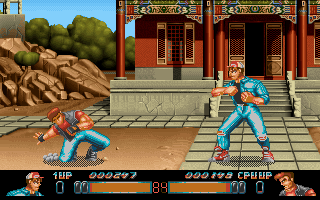 DOSGames.com Review:

Rating: 2
Body Blows is a one-on-one fighting game that seems to aim to approximate the aesthetic and experience of games like Street Fighter II. However, it is not nearly as refined as those games. It looks good visually, but the game itself (and it's "interesting" control scheme) doesn't play very well. In this demo version, you control Nik (a generic fighting guy) and fight against yourself. If you're able to figure out the controls (see below or the included README.DOC file) you will still probably have a bad time unless you remember this game fondly from your youth!
FILE_ID.DIZ:
Play Body Blows in Browser
Game will not be saved after closing your browser. Download and install the game if you want to save.
CTRL-F12 attempts to speed up game, CTRL-F11 attempts to slow it down.
Related / similar games:
If you enjoy Body Blows, you might also enjoy playing these games:
Body Blows, #1006. Added to website: 2019-10-22. All copyrights, trademarks, etc, are property of their respective holders.