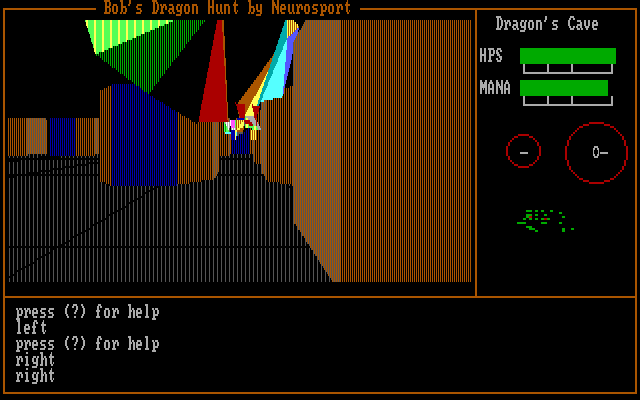 User Rating:
4
user ratings Based on
Page views: 12,684
Multiplayer:
Single player
DOSBox Cycles:
9000 (Approximate)

DOWNLOAD THE GAME FREE
draghunt.zip - 169k - Run
BDH.EXE
to play
Downloading ...
Found your game? Great! Glad you found it! Please consider saying thanks by making a small donation to support DOSGames.com. There are also other ways you can help!
Need help running the game? Check our DOSBox Guide to run DOS games on modern computers.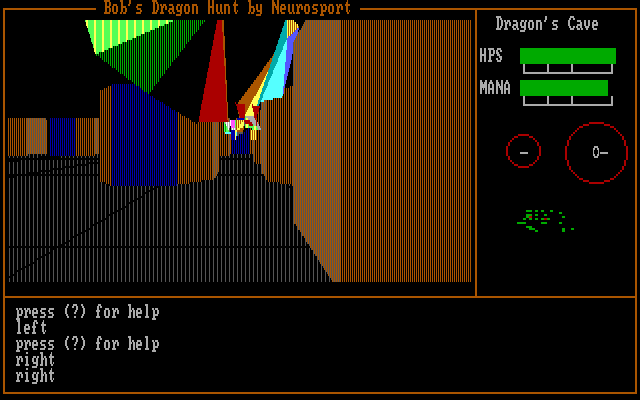 DOSGames.com Review:

Rating: 2.5
Bob's Dragon Hunt (technically the full name is "VirtualDungeon I: BOB'S DRAGON HUNT") is a game intended to show off Neurosport's "VirtualDungeon(tm)" engine. Although it's described as being "3-D simulation of reality" it's actually just a 3d-perspective view, here applied to a game with a roguelike interface, somewhat complicated by having to move around in a 3D space. You still move a block at a time, and must use the - and + keys to turn left and right. The difficulty seems high and it will probably take quite a bit of effort to figure out the multitude of keys and learn what they all do, but at least they're listed in the program's in-game help, and it does look kinda neat.
Play Bob's Dragon Hunt in Browser
Game will not be saved after closing your browser. Download and install the game if you want to save.
CTRL-F12 attempts to speed up game, CTRL-F11 attempts to slow it down.
Related / similar games:
If you enjoy Bob's Dragon Hunt, you might also enjoy playing these games:
Bob's Dragon Hunt, #1004. Added to website: 2019-10-17. All copyrights, trademarks, etc, are property of their respective holders.