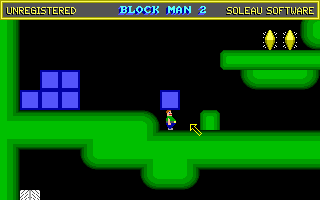 User Rating:
0
user ratings Based on
Page views: 548
Multiplayer:
Single player

DOWNLOAD THE GAME
bman210.zip - 220k
Downloading ...
Found your game? Great! Glad you found it! Please consider saying thanks by making a small donation to support DOSGames.com. There are also other ways you can help!
Need help running the game? Check our DOSBox Guide to run DOS games on modern computers.
- Run
BMAN2.EXE
to start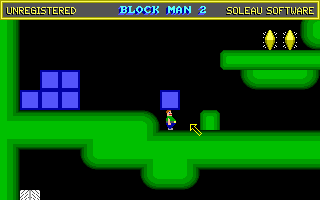 DOSGames.com Review:

Rating: 3.5
Block Man 2 is a slightly strange but fun puzzle game from Soleau Software, makers of dozens of classic puzzle type DOS games (and now Windows games too). In Block Man II, the object is to direct your block-carrying character around the various puzzle rooms using your mouse, stacking and jumping on the blocks until you're able to reach the exit. Controlling all the action with only the mouse takes a bit of getting used to but generally works well. Fun for puzzle game fans, if you're able to look past the oddly plain looking graphics and unique control scheme.
File_info.diz:
Related / similar games:
If you enjoy Blockman II, you might also enjoy playing these games:
Play Blockman II in Browser
Games may take awhile to load. CTRL-F12 attempts to speed up game, CTRL-F11 attempts to slow it down.