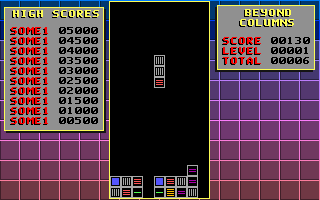 User Rating:
0
user ratings Based on
Page views: 87
Multiplayer:
Single player

DOWNLOAD THE GAME
beyond.zip - 23k
Downloading ...
Need help installing and running the game? Check our DOSBox Guide to run DOS games on modern computers.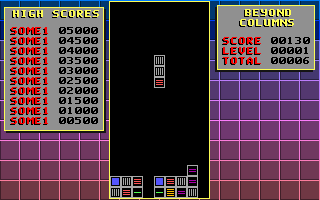 DOSGames.com Review:

Rating: 2.5
A fairly good rendition of the 'Columns' variant of Tetris. Instead of making horizontal lines, here there are falling blocks with different tiles on them, and you match up the colored tiles in sets of three in a row to clear them from the screen. Average graphics and sounds, but a good download if you want a free version of Columns that you can play on your PC. (Note: Press K or 5 to rotate pieces.)
Related / similar games:
If you enjoy Beyond Columns, you might also enjoy playing these games:
Read comments and share your thoughts with others!
By using Facebook Comments you agree to their terms & privacy policy.
Play Beyond Columns in Browser
Games may take awhile to load. CTRL-F12 attempts to speed up game, CTRL-F11 attempts to slow it down.