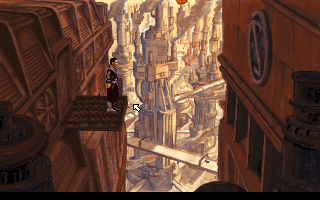 User Rating:
3
user ratings Based on
Page views: 39,702
Multiplayer:
Single player

DOWNLOAD THE GAME FREE
External link to free download location
Downloading ...
Found your game? Great! Glad you found it! Please consider saying thanks by making a small donation to support DOSGames.com. There are also other ways you can help!
Need help running the game? Check our DOSBox Guide to run DOS games on modern computers.

This game works in DOSBox but not currently in-browser. Please download and play on your device. How to use DOSBox
Beneath a Steel Sky - Floppy disk version (BASS-Floppy-1.3.zip, 7,496k) - As an alternative to the full CD version available on GOG.com (above) this is a smaller version without the fancy graphics / sound features.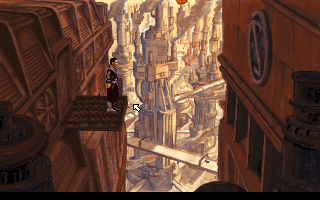 DOSGames.com Review:

Rating: 4.5
Originally a commercially released adventure game, Beneath a Steel Sky (BASS) was deemed freeware by Revolution Software in 2003. Now you can download and play it for free using the SCUMMVM software. This is a Lucasarts-style adventure game which takes place in a gritty, futuristic setting. Although the graphics and sounds are well done, some of the puzzles are a bit uninspired. Nevertheless it's clearly a well-made game and worth playing for adventure game fans. Note: Although Beneath a Steel Sky is a DOS game it requires the SCUMMVM program to run it.
Download SCUMMVM here
and install it before downloading the BASS game. If you need help installing or setting up SCUMMVM see the
SCUMMVM user manual
.
Related / similar games:
If you enjoy Beneath A Steel Sky, you might also enjoy playing these games:
Beneath A Steel Sky, #133. Added to website: 2017-11-25. All copyrights, trademarks, etc, are property of their respective holders.