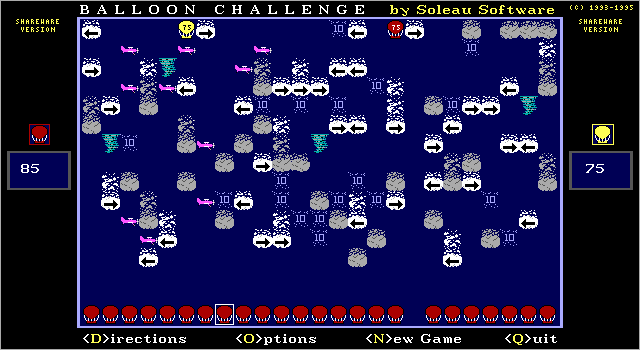 User Rating:
1
user rating Based on
Page views: 339
Multiplayer:
Single player

DOWNLOAD THE GAME
ballon20.zip - 108k
Downloading ...
Found your game? Great! Glad you found it! Please consider saying thanks by making a small donation to support DOSGames.com. There are also other ways you can help!
Need help running the game? Check our DOSBox Guide to run DOS games on modern computers.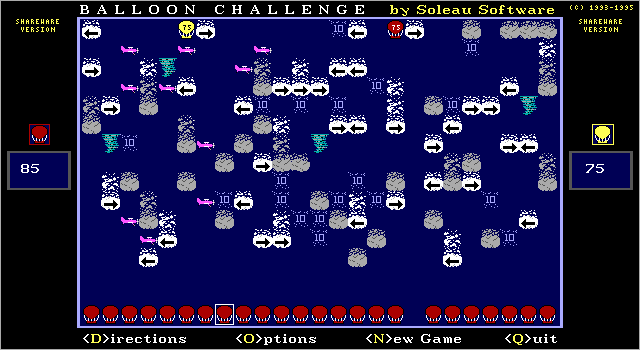 DOSGames.com Review:

Rating: 3.5
Balloon Challenge is a puzzle game with much in common with several of Soleau Software's other similar EGA/VGA puzzle games, but with some unique rules of its own. The object is to get your balloons as high as possible on the game board. After choosing a balloon, it will float up the screen, and change directions based on what it hits. So you must choose your balloons carefully! Not tremendously exciting but there is an element of strategy to the game and the playing field will be different every time that you play. Don't try to play with your friends, however, since there is no mutliplayer mode; you can only play against the computer.
File_info.diz:
Related / similar games:
If you enjoy Balloon Challenge, you might also enjoy playing these games:
Play Balloon Challenge in Browser
Games may take awhile to load. CTRL-F12 attempts to speed up game, CTRL-F11 attempts to slow it down.