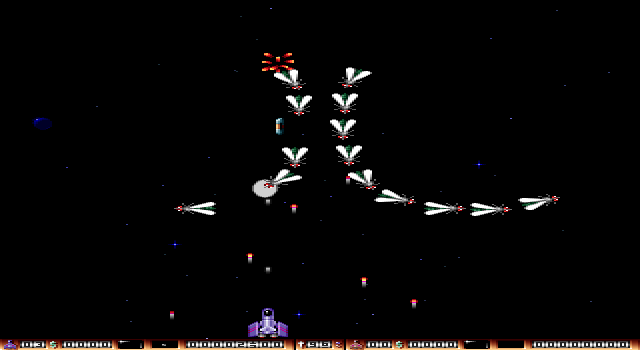 User Rating:
13
user ratings Based on
Page views: 9,915
Multiplayer:
Up to 2 players, Cooperative shared keyboard
DOSBox Cycles:
16000 (Approximate)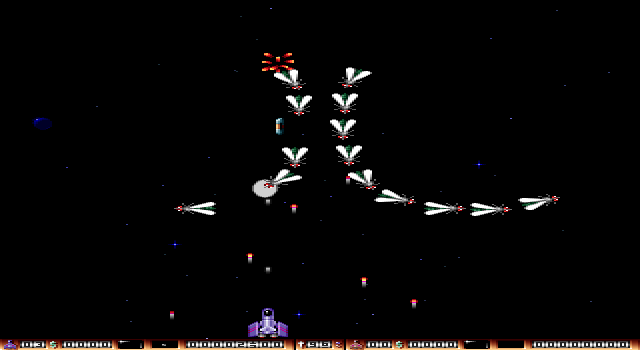 DOWNLOAD THE GAME FREE
DOSBOX_BADWEBFOOT.ZIP - 4,192k - Run
BAD.EXE
to play
Downloading ...
Found your game? Great! Glad you found it! Please consider saying thanks by making a small donation to support DOSGames.com. There are also other ways you can help!
Need help running the game? Check our DOSBox Guide to run DOS games on modern computers.

Original archive (BADSW.ZIP, 1,508k) - The main download file above (DOSBOX_BADWEBFOOT.ZIP) is pre-configured to work DOSBox. This file, BADSW.ZIP, is the original and may require installation / setup.
DOSGames.com Review: Rating: 2.5
B.A.D stands for "BLASTING, ANNIHILATION & DESTRUCTION", but given that this game is not particularly fun, it ended up having a fitting acronym for its name. It's a Galaga / Galaxian / Space Invaders inspired shooter which, despite its hi-res graphics and Soundblaster sounds/music, ends up being a bit boring to play. You blast many similarly-looking bugs as they fly onto the screen. The action runs a bit slowly, and you can only fire two shots on the screen simultaneously. The sound is also unfortunately a little "off" in DOSBox so there is sometimes some distortion and popping. Overall it's not that "bad" of a game but it could have been a lot better. It DOES offer two player simultaneous play, so if you're interested in that, give it a try.
FILE_ID.DIZ:
Play B.A.D in Browser
Game will not be saved after closing your browser. Download and install the game if you want to save.
CTRL-F12 attempts to speed up game, CTRL-F11 attempts to slow it down.
Related / similar games:
If you enjoy B.A.D, you might also enjoy playing these games:
B.A.D, #1268. Added to website: 2020-10-05. All copyrights, trademarks, etc, are property of their respective holders.