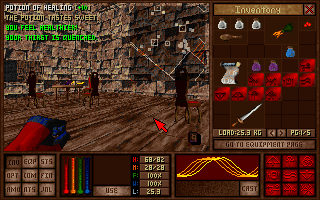 User Rating:
5
user ratings Based on
Page views: 28,998
Multiplayer:
Single player

DOWNLOAD THE GAME FREE
DOSBOX_AARMOR.ZIP - 6,636k - Run
SETUP.EXE
to play
Downloading ...
Found your game? Great! Glad you found it! Please consider saying thanks by making a small donation to support DOSGames.com. There are also other ways you can help!
Need help running the game? Check our DOSBox Guide to run DOS games on modern computers.

Original archive (amuletsa.zip, 6,879k) - The main download file above (DOSBOX_AARMOR.ZIP) is pre-configured to work DOSBox. This file, amuletsa.zip, is the original and may require installation / setup.
Amulets & Armor Full Version (http://amuletsandarmor.com/download.htm, 80,000k) - The full version of Amulets & Armor has been released for free, visit the official site to download. The Windows version is also available for free.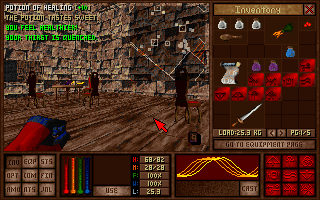 DOSGames.com Review:

Rating: 3.5
Amulets & Armor is an interesting first-person perspective RPG game that unfortunately never got much attention, presumably due to failed publishing and marketing efforts. The game attempts to combine the best elements of FPS games and RPGs, and to some degree it succeeds, having passable graphics and sounds, along with a variety of gameplay options and even multiplayer. However the game also has design problems and bugs, so it is at best a flawed unknown classic. (Note that as of 2013 the full version has been released for free as a 80meg download, see the
official site
to download it.)

Video Review
Video review of Amulets & Armor, courtesy of Ancient DOS Games
Play Amulets & Armor in Browser
Game will not be saved after closing your browser. Download and install the game if you want to save.
CTRL-F12 attempts to speed up game, CTRL-F11 attempts to slow it down.
Related / similar games:
If you enjoy Amulets & Armor, you might also enjoy playing these games:
Amulets & Armor, #362. Added to website: 2018-01-21. All copyrights, trademarks, etc, are property of their respective holders.