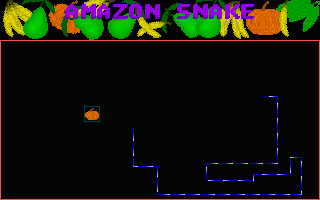 User Rating:
1
user rating Based on
Page views: 596
Multiplayer:
Single player

DOWNLOAD THE GAME
amazon.zip - 42k
Downloading ...
Found your game? Great! Glad you found it! Please consider saying thanks by making a small donation to support DOSGames.com. There are also other ways you can help!
Need help running the game? Check our DOSBox Guide to run DOS games on modern computers.
- Run
AMAZON.EXE
to start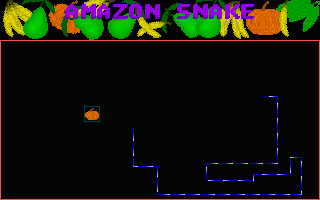 DOSGames.com Review:

Rating: 3
Somewhat a clone of the classic 'Nibbles' or mobile phone 'Snake' game, in this one you are a snake who must gobble up fruit; each time you do, your snake gets longer. (Not meant in any obscene way.) Anyways, the VGA graphics aren't too bad, but since there's no variation in the levels, this game could get boring quickly.
File_info.diz:
Related / similar games:
If you enjoy Amazon Snake, you might also enjoy playing these games:
Play Amazon Snake in Browser
Games may take awhile to load. CTRL-F12 attempts to speed up game, CTRL-F11 attempts to slow it down.