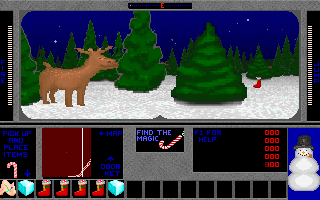 User Rating:
9
user ratings Based on
Page views: 27,902
Multiplayer:
Single player

DOWNLOAD THE GAME FREE
DOSBOX_SANTA3D.ZIP - 1,441k - Run
SANTA3D.BAT
to play
Downloading ...
Found your game? Great! Glad you found it! Please consider saying thanks by making a small donation to support DOSGames.com. There are also other ways you can help!
Need help running the game? Check our DOSBox Guide to run DOS games on modern computers.

Original archive (santa3d.zip, 1,437k) - The main download file above (DOSBOX_SANTA3D.ZIP) is pre-configured to work DOSBox. This file, santa3d.zip, is the original and may require installation / setup.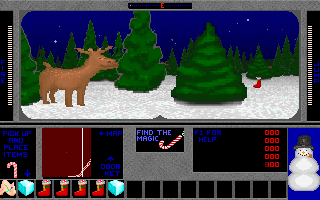 DOSGames.com Review:

Rating: 2.5
Spread the holiday cheer with this mediocre somewhat-Christmas themed game! It was released by Pie in the Sky Software to promote their 3D game creation system. As such, it's a decent game made with it, but it's still not great. There is a story in the game but it's not too important. You're running around outside in a forest with a lot of trees. A candy cane is your only weapon (?!) and you have to pick up Christmas stockings which work as ammo (?!?!). The original website describes it like this: "Armed with a magic candy cane that shoots jingles and sprinkles, you run around the North Pole gathering gifts, freeing grounded reindeer, and thawing out elves. Beware of the growling abominable snowmen and the menacing grinchy creatures!" Generally it looks and sounds okay, and as with all Pie in the Sky 3D games, it plays a bit too twitchy. It's not obvious what you're supposed to do or where to go, or even which characters are enemies.
FILE_ID.DIZ:
Play 3D Xmas Adventure: Santa's Rescue in Browser
Game will not be saved after closing your browser. Download and install the game if you want to save.
CTRL-F12 attempts to speed up game, CTRL-F11 attempts to slow it down.
Related / similar games:
If you enjoy 3D Xmas Adventure: Santa's Rescue, you might also enjoy playing these games:
3D Xmas Adventure: Santa's Rescue, #780. Added to website: 2018-12-05. All copyrights, trademarks, etc, are property of their respective holders.